Article by Jay Pennington, Sangha News Editor

To spend time deepening your practice—an appealing idea, and one that can often seem out of reach in a life full of commitments. Multi-day retreats are not always possible. But what about just three Saturday afternoons, each a month apart, on a solid theme?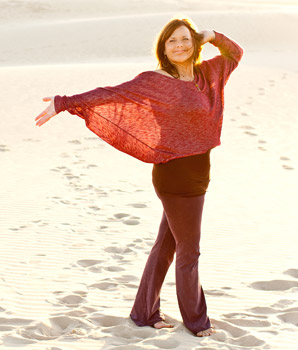 That's exactly what is offered by Yoga, Zen and the Three Jewels, at ZaZEN Filbert Street, with the classes reflecting the themes of Buddha, Dharma and Sangha. Yoga teacher and intuitive healer Lisa Jansen leads the series, along with Zen teachers Connie Cummings (Class 1 and 3) and Judith Randall (Class 2). Although individual class sign-ups are still welcome in this series, I asked Lisa to share something about the particular benefits of committing to a short series.
Jay: In these upcoming classes, how will the different yoga styles or practices support exploring, even embodying, the three jewels?
Lisa: Observing ourselves through our asana and pranayama practices, we awaken to our true nature and our conditions in both body and mind. The hatha yoga practice is designed to purify; ongoing practice serves as a purification process that ultimately turns us toward our own light, or awakens us to our full potential. With interest and commitment we can awaken.
The hatha and Yin Yoga combination is a balanced approach to practicing Yoga. Through hatha we release holding patterns; through Yin we turn inward and understand our conditioning. Together they prepare students for a fruitful meditation practice.
I love offering students opportunities to have longer practice sessions, such as this three-part series. When coming back together again in the same setting we develop a community or sangha. For every group that joins together there is benefit to all members. Setting aside time such as a series or a longer workshop, or going on retreat, creates a field in which we receive the teachings more deeply.
Jay: You have already begun an excellent answer to my next question, but can you say anything more directly about the value of attending all three classes?
"In order to . . . allow our Buddha-nature to shine bright, we need to carve out sacred time and commit to practice."
Lisa: Consistency, discipline, setting aside regular practice times are all part of growing spiritually. In order to grow or advance in our spirituality, aka allow our Buddha-nature to shine bright, we need to carve out sacred time and commit to practice. I find that in these busy times not all can get away for five- or ten-day retreats. This is my way as a teacher of bringing mini-retreats to the students so that their lives may be enriched. It's also great for students who have done a retreat and want to keep that energy alive.
Jay: You identify yourself as an intuitive healer and have trained in several different healing modalities. How does this affect the experience of the yoga student in a class setting?
Lisa: My training and experience as a craniosacral therapist, Reiki master and intuitive have taught me how to empty out so that I can listen from deep within and intuitively respond to each individual's needs while in a classroom setting. The intention through the teaching is to energetically support students in attuning to the Universal Life Force Energy. The all-pervasive state of oneness or wholeness is always accessible; it's just that we often have our attention elsewhere! Students in my classes, even with a large span of ages and abilities, will report having had their individual needs met.
Jay: Is there anything you would like to add or highlight about this class series?
Lisa: I'm always excited to work with students and offer the teachings through the Zen Center. Yoga and Zen are so similar, such a complement. Working in harmony with the Zen Teachers is such a joy!
__________
For full class descriptions of this series, see Yoga, Zen and the Three Jewels, at ZaZEN Filbert Street. For more about Lisa Jansen, visit lisayoga.com.