Article by Kogan Sheldon
City Center hosts two of its longtime friends, Kazuaki Tanahashi and Peter Levitt, on Friday, June 28, at 7:30 pm to present their fascinating, newly released book, The Essential Dogen: Writings of the Great Zen Master. Kaz, in the middle of a full schedule of workshops in Europe, agreed to call from Munich for a Skype conversation about the book. Peter, hard at work in the vegetable garden at his home on Salt Spring Island in British Columbia, took a break and joined us.
Kogan: I really feel that you get joy from introducing our great ancestor Dogen to people who haven't heard of him. I have a friend who told me he's been a stranger to Dogen. What would you say to this person, in conversation, about beginning to read Dogen?
Kaz: I think Dogen can be a very good introduction for people who want to meditate—in whatever way, whether it's yoga, qigong, or Tibetan. It can help widen and deepen anyone's meditation experience. What do you say, Peter?
Peter: Yes—I was given the opportunity to talk yesterday at a Unitarian Church at their Sunday service, and I chose to use The Essential Dogen as my text. What I found during discussion was that they, like most people, have this longing to return to a kind of source place in themselves, so that they can help our world. Dogen is the perfect gateway to help people find themselves a little further down that path. One of the things that Kaz and I tried to do with The Essential Dogen was give just enough of a taste and flavor of Dogen's vision and understanding so that people from every walk of life could start to walk with Dogen, in whatever way they can.
Kogan: You two have collaborated for some time. How did your collaboration begin?
Kaz: I've been translating Dogen since 1960—first into modern Japanese, and then since 1965 into English. So I've been collaborating with over 30 Zen students and practitioners—and now they are teachers. I often choose people who have great poetic sensitivity and writing skills, and Peter has been one of them. We translated Dogen together. Also, as we enjoy each other so much, I asked him to collaborate in completing this work with Dogen.
Peter: Kaz and I worked for about eight years on Shobo Genzo [Treasury of the True Dharma Eye] after he invited me to be Associate Editor. But, of course, that text is huge, and dense, and many people find it impenetrable, so we thought it might help people to gain access to Dogen's teaching if we took one more step and created a sort of portal through which those who were interested might encounter Dogen in smaller bites, so to speak, and at a slower pace.
Kogan: Can you say a little bit about the format of the book and what you see as the benefit of this particular format?
Kaz: In Dogen's writing, the practical instruction, philosophy and poetry are together in one voice. People hear about his poetry, go to his work, and expect to find poetry, or they hear about his philosophy and expect to find philosophy. They look just for practical instruction and find poetry and philosophy. They can't make out the complexity of his writing, become frustrated and let him go.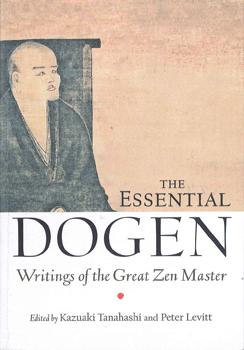 Peter: In the end, Kaz and I each wrote a list of what we felt were the most salient and essential themes in Dogen's teaching. Our list ended up being the Table of Contents, which includes excerpts from Dogen on zazen, enlightenment, freedom, aspiration, women, bowing, sacredness of each thing, nature, and so forth—plus his poetry.
We then scoured all of Dogen's work published by the SFZC Dogen Project over the years to locate the strongest and most clearly stated excerpts. Our hope, of course, was that readers would sort of pull on one thread or another and gradually find themselves engaged or comfortable enough to draw closer to Dogen's teaching as a whole.
Kaz and I have secret titles for the book that resulted from our approach. His is "Dogen Digest," and mine is "Dim Sum Dogen."
Kogan: Have you personally discovered something about Dogen or your Zen practice while working on The Essential Dogen?
Peter: Working on Dogen for 10 years with Kaz was a bit like being drenched, or I might even say drowned, in Dogen. We went over every word of Shobo Genzo four or five times. It was a very strong experience and, of course, a great treasure to do this with Kaz.
"There's an intimacy with the world I think we all know, or knew at some time in our lives."
Peter Levitt
This ended up influencing how I see and experience the world, with the result that now, rather than feeling drowned, it's more like gently stroking each petal of a flower, slowly, with appreciation for what it is. There's an intimacy with the world I think we all know, or knew at some time in our lives, perhaps, and working with Kaz and Dogen has helped the ability to experience that intimacy to come forward in a way that is slower and more complete.
Kaz: This is the completion of an effort of many years—the Dogen Project supported by San Francisco Zen Center—so this is a Zen Center book. I feel very great appreciation for all those who have supported and contributed to the translation and publication of the work of Dogen over 36 years: the students and teachers, the Publication Committee, the Abbots, the Board. Such a long-term and large-scale translation project is unprecedented among Zen groups in the Western world. I have also been grateful for Peter's wisdom and poetic ingenuity. As people read and discuss this book, and perhaps choose to go deeper into the works of Dogen, I think the practice of meditation will also go deeper, wider. That has been true for me.
Kaz and Peter will be available for questions and discussion at the June 28 book release event, when they present readings from The Essential Dogen: Writings of a Great Zen Master at 300 Page Street.