Sunday, June 30, 9 am – 5 pm
The San Francisco Zen Center sangha will be marching in the Pride Parade for the sixth consecutive year, manifesting the harmony of difference and equality.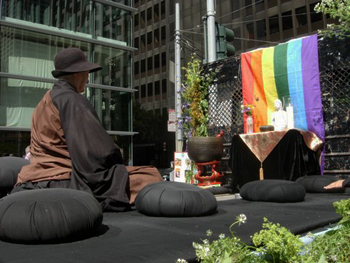 You are warmly welcomed to join in this joyous celebration of the LGBTIQ community.
VOLUNTEERS NEEDED:
Volunteers are needed to be contingent monitors who monitor the safety of our group of marchers (this requires a one-hour training prior to the day of the Parade), to hand out flyers and to carry banners. If you are interested in volunteering for the event please call Tova Green at 415-354-0352.
Participate by walking or riding in the Parade with the SFZC float. The group will leave City Center at 9:00 a.m. on June 30. While waiting for the Parade to start we will be decorating the "floating zendo." There may be time to watch part of the Parade before we start marching. The time we actually set out is hard to predict. We will bring water and small snacks for everyone, but you may want to bring your own snacks and lunch.
For those who would prefer to meet at the starting location of the parade, please arrive between 9:30 and 11:00 am. New info: the contingent line-up number is 234 at Assembly Area M, on Beale between Howard & Folsom.
The approximate schedule for Sunday, June 30, is as follows:
9:00 am    Depart from City Center to Downtown
Walk in the Parade
3:00 pm    Return to City Center
3:30 pm    Clean up
4:00 pm    Meditation at 300 Page Street
5:00 pm    Closing Words
Let's celebrate the LGBTIQ community at the San Francisco Pride Parade!