On May 29, several City Center residents and sangha members joined with urban farmers in a circle at Hayes Valley Farm, one block away, to bid farewell to its trees.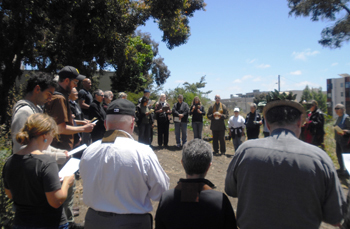 With pieces of an abandoned freeway still visible in the corner, this parcel of land in the middle of prime urban real estate had been reclaimed in recent years as a community garden, to which some sangha members contributed their labors, and where City Center contributed its compost weekly. With a contract expiring, the farm and its trees are destined to be replaced soon by housing construction.
The noon ceremony included chanting of the Enmei Jukku Kannon Gyo (Invocation of Compassion) "for the well-being of the trees and all life," concluding with the following dedication read by Central Abbot Steve Stücky.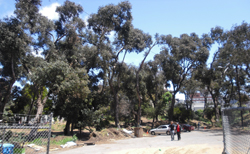 EKO (DEDICATION) for Hayes Valley Farm and Its Trees
(May 29, 2013, Laguna and Oak, San Francisco)
Out of an empty field of broken freeways
through infinite compassion all phenomena appear.
Awakened beings fully realize that we are the same
as the vast sky and the Great Earth.
Today we recall that our individual lives combine to create balance,
And confess that human activity contributes to our Biosphere coming Into and going Out-of-balance. . . We vow to wake up and remind ourselves to take good care of our local corner of paradise…
Seeing it so beautiful, so precise and pure.
Now, we have gathered together to honor this garden and its TREES!
We have opened our hearts, offered our words, and chanted the En Mei Jukku Kannon Gyo invoking compassion and good-hearted energy.
We offer all benefit to:
▲
The Complete Well-being, balance and happiness of Mother Earth and the bio-sphere.
To wild mountains, clear waters, nourishing topsoil, green fields, forests, and the health of all forms of life.
To the local landscape …earth, rock, and water beneath our feet.
To those who rolled up their sleeves and helped make the dream of Hayes Valley Farm a living reality.
To the trees of this place, their spirits, and their transition into other forms of life
For all the myriad inter-woven living beings in this realm.
▼
As we go forth in gratitude for the strength and fragility of trees,
May the seeds of balance and harmony flower
and bear fruit throughout the universe.
May our practice rise with the mountains and deepen with the waters,
And mature into millions of beneficial actions of restraint and generosity.
May all beings realize the Great Awakened Way.