May blooms and blossoms, the season is under way!
Limited availability in May, but there are lots of opportunities for 1-nt stays. Got room for a last minute, quick Spring getaway? Call us to see about our precious gems, a little sanctuary in a crazy schedule.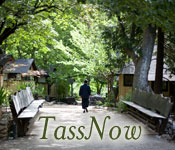 For questions or to reserve your room, please contact Tassajara Reservations by phone, 888-743-9362, or email.
—
NOTE: TassNow room availability updates refer only to last minute / near future availability at Tassajara. These updates don't necessarily mean that other dates aren't available.
For all inquiries about availability and reservations at Tassajara, please contact Tassajara, as indicated above.