May 1 – 31
In the City Center Art Lounge
300 Page Street
San Francisco
Reception: Friday, May 10, 7:00 pm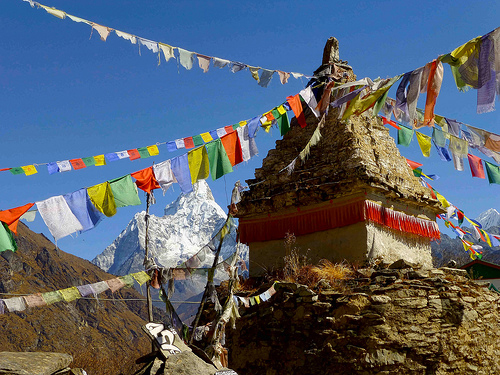 Photographs by David Silva
This show consists of images of Tibetan Buddhism from the Khumbu Region of Nepal, as well as from the two largest Tibetan Buddhist shrines in Kathmandu. The images weave a colorful tapestry reflecting the vibrant iconography of Tibetan Buddhism, as it is seen in Nepal. They consist of prayer flags, prayer wheels, mani stones, stupas, chortens and gompas, set in the grandeur of the Himalayan Mountain range.
There are also images from Boudhanath and Swayambhunath shrines in Kathmandu. Boudhanath, one of the holiest Buddhist sites in Kathmandu, consists of the largest Buddhist stupa in Nepal, and is surrounded by many gompas, or monasteries. Swayambhunath, also known as the Monkey Temple, because of the large population of monkeys that populate it, is the oldest Buddhist shrine in Nepal.
Additionally, this show includes images of the Mani Rimdu Festival, an annual 19-day sequence of sacred ceremonies culminating in a three day public festival. This highly ritualized festival, which is only performed in three Sherpa monasteries once a year, involves colorful and highly animated dances by the resident monks that depict the conquering and converting of demons by Padmasambava (Guru Rinpoche) and the introduction of Buddhism to Tibet. These images are taken at Tengboche Monastery, which sits on a 13,000 feet high saddle in the Himalayas, with Mt. Everest and Ama Dablam rising in the background.
In Nepal the majority of people identify as Hindu, with only 11 percent being Buddhist. However, Buddhist influences are pervasive in most aspects of Nepali culture to an extent that Buddhist and Hindu temples are shared places of worship for peoples of both faiths so that, unlike in other countries, the distinction between Hinduism and Buddhism in Nepal is not always clear.
The vast percentages of Buddhists in Nepal consist mainly of Tibeto-Burman ethnicities, which follow various schools of Tibetan Buddhism, and mainly reside in the Himalaya Mountain region and Kathmandu. The Tibetan Buddhist iconography, as seen in the Himalayas, is Tantric or Vajrayana in nature, and very much reflects the influence of Bon, an animistic religion that was in Tibet prior to Buddhism. Also prominent are images of Guru Rinpoche (Padmasambhava), even more than those of the historical Buddha, Gautama.
On the evening of the Reception, May 10, there will also be a slideshow presentation, Eighteen Days in the Khumbu: Trekking the Everest Region of Nepal, with extensive photographs of that region, and commentaries on the prevalence of Tibetan Buddhism in that area.