Article by Sachico Ohanks, Communications Coordinator at SFZC
Photos by Florian Brody

Jisan Tova Green, Zen Center Vice-President, and Kyosho Valorie Beer, City Center Ino (temple coordinator), are launching a new dharma group at City Center for people 55 and older. On Saturday, April 20, they will speak on the theme "The Practice of Aging and The Aging of Practice", at 10:15 am in the Buddha Hall at City Center. Please join us for the talk and share your thoughts and insights by responding to our online questionnaire on The Practice of Aging. We would like to hear from you!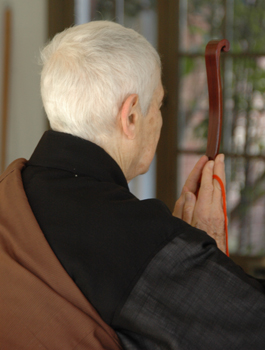 As aging practitioners, Tova and Valorie recognize the relevance of Zen practice to the experience of aging. Practice can help us be present with the changes that come with aging — changes in health, loss of friends and family, aging parents, becoming grandparents, retiring from a career, and reaching a sense of completion or clarity about lifelong pursuits. Practice can also heighten our awareness of the preciousness of the time we have in this physical body and inspire us to focus on what is most important in our lives.
As our practice ages and matures, Valorie notes, "Perhaps slowly we have more and more courage to look at the deep and hard parts of our lives, such as changes in physical capabilities, changes in relationships and recognizing death. Those things may become more interesting."  Within this expanding awareness lies the possibility of cultivating greater intimacy with life. As Tova further illuminates, "We become more aware of how interconnected we are with one another and all of life. This can sustain us during difficult times and amplify our experience of joy."
Valorie and Tova hope to offer practitioners who are 55 and older a place to explore common concerns from the perspective of Buddhist teachings. Like the affinity groups Young Urban Zen and Queer Dharma, this group will provide a space where people can acknowledge their full expression of being—including the ways in which they may not feel completely seen or included, and perhaps even marginalized.  "This groups offers a valuable opportunity for those of us in our 50s and beyond to come together to sit, study, discuss and celebrate our place in the family of practitioners," says Tova.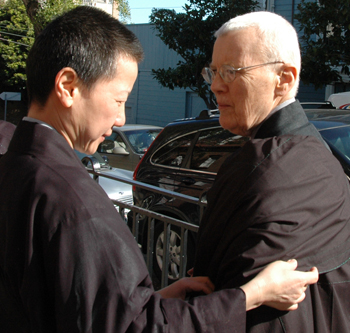 Following the Saturday talk will be a Question and Answer period in which Tova and Valorie will begin a dialogue with those interested in participating in the new group. We will explore the level of interest in forming a group at Zen Center, the nature and focus of the group, and possible formats and meeting times. By responding to our online questionnaire on The Practice of Aging, you can help us plan the next steps.
Please share this information with anyone you feel might benefit from hearing about our new group.