The Nameless is the Beginning of Heaven and Earth. The Named is the Mother of Ten Thousand Things by Annie Hallatt
Exhibit: March 1-31
Reception: Friday, March 1, 7:30 – 9:00pm. City Center Art Lounge, 300 Page Street, SF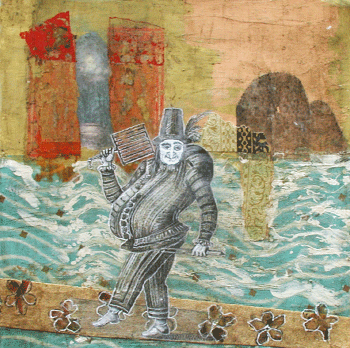 Conversations with the Artist:
Friday, March 22, 7:00pm.
City Center Art Lounge.
300 Page Street, SF.
Join a conversation with the artist, Annie Hallatt, we will discuss the painting and papier artwork shown, and discuss the techniques used. Come celebrate this new process with Annie and share discussions for future projects, including the April 28 performance of the Pageant Celebrating the Birth of the Buddha, at Green Gulch Zen Center, Muir Beach.
This collection of paintings, papier mache masks and small sculptures is the story of my love for the shimmering juxtaposition of the mythic and mundane, the seamless reality of the Buddhistic world vision. The great pleasure I find in the almost 25 years of annually activating the poem by Norman Fischer of The Story of the Birth of the Buddha, as part of the ceremony at Green Gulch Zen Center in Muir Beach, Marin County, has been for me the moving palette of this exploration.
Recently, I began exploration of the flat surface with techniques, shared by a local artist, that resonate with my collecting of beautiful spiritual images and my delight in the history of storytelling which funds my mask making career. This series takes its name from the Tao Te Ching and is in the wisdom tradition of sharing the small details of my life nestled within a mythic context . My process also allows my personalization of what is generally considered within the context of asian cultural expression.
Artist Website: www.masquearrayed.com