City Center's Dharma en Español group will be screening the Argentinean film "Un Buda" (2005), written and directed by Diego Rafecas. Everyone who speaks Spanish is warmly invited to attend. (No subtitles provided.)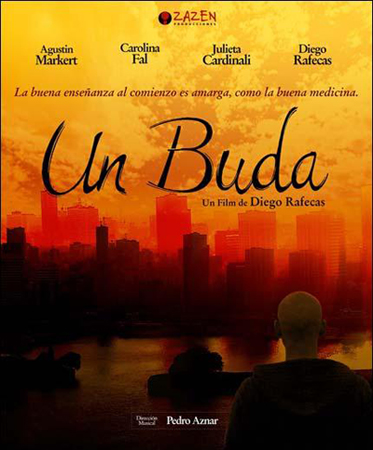 El grupo Dharma en Español mostrará la película argentina "Un Buda" (2005) dirigida y escrita por Diego Rafecas.
Viernes, Febrero 8, 7:15 – 9 pm
City Center, 300 Page Street, SF
La película retrata las luchas espirituales, encuentros y el viaje del menor de dos hermanos Tomás, cuyos padres fueron llevados por los militares durante la "Guerra Sucia" de la década de 1970 en Argentina.
Tomás despierto en una realidad diferente viaja a un templo Zen en las montañas cordobesas en busca de su maestro.
Lo encuentra, pero no todo es como él pensaba.
Dharma en Español es uno de los varios Grupos del Centro Zen de San Francisco (City Center.) El grupo se reúne todos los sábados de 11:00 am hasta el mediodía en el salón de arte de City Center. Durante esta hora se lee y se comenta el libro "Mente Zen, Mente de Principiante," un texto de Shunryu Suzuki Roshi. No es necesario tener experiencia con Zen, ni haber leído el libro antes de asistir al grupo.
El grupo esta dirigido por la monja Zen, Konin Cardenas, la cual empezó a practicar Zen en 1987. Konin continuó como laica hasta ser ordinada como monja en el 2007 por Sekkei Harada Roshi en el monasterio Hosshinji. Ella ha practicado en Japón y en Tassajara, un monasterio cerca de Carmel, California. Además estuvo en residencia en el Centro Zen de San Francisco por
cuatro años.
Para obtener más información sobre el grupo, por favor visita nuestra pagina de internet o communicate via correo electronico con Konin Cardenas. Gracias por tu interes, esperamos que puedas asistir e invites a tus amigos y seres queridos.