What Former Participants Experienced
As Establishing the Path of Practice 2016 is about to get underway, four of the program's former students stepped up to share their experience with us. Here's what they had to say about their experience in the program: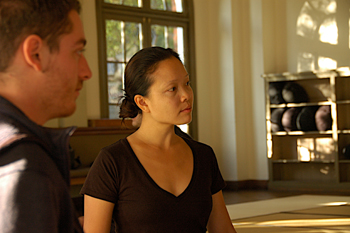 The EPP program provided me with direct experiences in a set of practices that continue to enrich my life in innumerable ways. The Sangha experience was a big part of my learning. The large and small groups as well as the one-on-one meetings with a teacher were very powerful. The teachers were very knowledgeable and highly skilled. They encouraged an environment of inquiry, reflection, and compassion. The EPP program design was superb. It was very pragmatic with strong utilization of the experiential learning model. After EPP, my practice is more dynamic including daily sittings, mindful awareness, Buddhist readings, and applying Buddhist ethics to every aspect of my life.
– Paul Van Houten
I had been meditating on my own and in a group setting for a couple of years, and I felt like I didn't know what I was doing. The opportunity to participate in the EPP program was something I didn't realize I would get so excited about. I didn't realize how much I wanted a consistent gathering of the same people, working on the same process, with expert teachers.

The format (once a week, evenings) was perfect for my schedule; one week in the large group, the next in a small group. I valued the guidance of the teachers who suggested small steps toward setting up a home practice and the guidelines for working in small groups. The written reflections and meetings with senior teachers made the whole process seem safe. Everyone provided and received support through the others' presence.

The entire program stayed with me. The structure has provided me with a path to think new thoughts, find deep satisfaction and peace with simply being. The answer to my question of "What am I doing?" became another question, "What is my intention in this present moment."

In our culture of goal-setting and success-orientation, I found the shift in focus profoundly helpful.
– Anne Sasaki
EPP was the most important step I have taken at SFZC in terms of committing myself to practice. It taught me the fundamentals of being mindful, something frankly I thought was impossible to teach. EPP literally changed my life as it gave me the tools to understand the stories that my mind creates and allows me to differentiate them from the actual feelings I have in each moment. I now understand my practice to be life, and the lessons learned in EPP are experienced every day when I sit, work, love, skate and relate to others.

– Alan Lessik
Through EPP and SFZC, not only have I been able to establish a regular sitting practice, but I have also embarked on a life path that is grounded in the teachings of presence, composure, and compassion.

Through structured mindfulness activities, I began to understand the difference between the emotional mind and the rational mind. Through observing my patterns of physical and emotional behavior, I gained insight into how to pause before reacting to family, friends, and colleagues. Through noticing, charting, and reflecting, I was able to learn to step back and interrupt habitual responses, thus finding new and creative ways to respond. The benefit has been the development of a more healthy, "hands off" response to people and problems: more accepting, less controlling, less giving in to the desire to intervene or "fix it."

I have been grateful for the acceptance and support from the practice leaders and participants and appreciate the way that the teachers worked to keep us on track: following up with us, setting guidelines for our discussions, calling us on discrepancies in our words and actions, and providing us with a clear foundation of support.

The clarity of purpose allowed us to truly listen to each other, without judging, reacting, or giving advice. The result has been the development of unique friendships; seven of us, a group comprised of ages spanning four decades, are still in regular contact and have met monthly for nearly three years: to sit together, to discuss our individual practices, and to provide ongoing support for
one another.

– Deborah vanDommelen