Meditative Flow by Patter Hellstrom
January 2-31
Reception: Friday, January 4, 7:00 – 9:00pm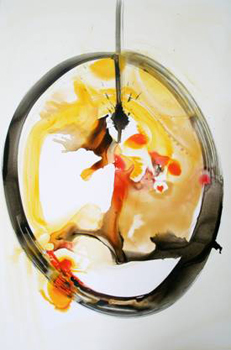 Art Lounge
300 Page Street, SF
An exhibit of abstract and prismatic works by San Francisco based artist Patter Hellstrom unlocks the flow of color and emotion. Through acrylic ink and a slick polypropylene surface, she walks the tight rope between balance and chaos. The artist's loose brushwork and luscious color palette are offset by subtle centerlines that guide and anchor the flowing pigments.
While much of Hellstrom's process relies on media and chance, she searches for stability and a meditative moment within each piece. This relates to the stability one searches for while traversing through the twists and turns of daily life. Wells of color sprout, splash and gush across the structural lines and the lustrous surface as an emotional response is imparted onto the viewer. A dynamic equilibrium in is reached encompassing themes of impermanence, compassion, stability, and interdependence. Informed by her installations, Hellstrom's paintings evoke a sense of detachment among a host of competing powerful forces.
Hellstrom's loose and confident brushwork emphasizes the beauty of a simple stroke. Coupled with her liberal use of vibrant colors, Hellstrom's works recall calligraphic traditions that inspire the artist. She studied brush painting with a master painter in Nantong, China. India influenced her palette, as she traveled to Bihar as a guest artist at the Mithila Art Institute, 20 miles from the Nepal border. Subsequently, both regions and cultures have made a lasting impression on Hellstrom's art practice.

www.patterhellstrom.com
email: phellstrom@aol.com