Everyone is welcomed to join us to watch Genderbusters, a film written and directed by Sam Berliner. The screening will be followed by a discussion with the filmmaker.
Friday, November 30, 2012, 7:30-9pm
City Center, 300 Page Street, SF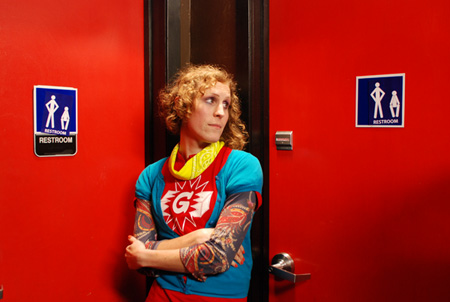 In their fight for the Gender Evolution Revolution, the Genderbusters drive around resolving the gender-binary dilemmas of folks all over San Francisco!
Genderbusters is a short 16mm film written and directed by Sam Berliner, a genderqueer trans graduate film student at SF State University working towards his MFA. His goal as a filmmaker is to provide a positive voice for the trans, genderqueer, androgynous & gender-fluid folks not yet represented on screen, documenting our history, serving as a call to action to be recognized and respected by society at large.
The film has screened at over 50 film festivals around the world from Melbourne to Mumbai, Osaka to London, Tel Aviv to Rio de Janeiro, is distributed by the Canadian Filmmakers Distribution Centre, and won Best Short Film at Translations 2011: Seattle's Transgender Film Festival. Sam is currently hard at work getting the film into the hands of those who need it in schools, LGBTQ centers, support groups, etc.
There is no fee for this event and donations to support Sam Berliner's educational work would be gratefully accepted.