This evening presents readings and reflections on The Arts of Contemplative Care – edited by Cheryl A. Giles and Willa B. Miller and recently released by Wisdom Publications – with contributing authors Daijaku Judith Kinst, Jennifer Block, Grace Schireson, and others.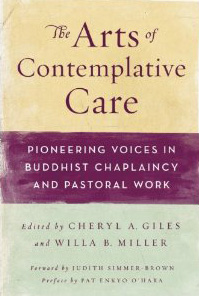 Friday, October 26, 7:30pm
City Center | 300 Page Street | San Francisco
In confluence with San Francisco Zen Center's Contemplative Caregiver Course, The Arts of Contemplative Care collects the experiences and reflections of Buddhists for whom care is a form of spiritual practice. This new book explores the budding field of Buddhist "Contemplative Care" through the eyes of it pioneers. These individuals work in the diverse fields of hospital and hospice chaplaincy, prison ministry, military chaplaincy, college chaplaincy, pastoral counseling, pastoral education and Buddhist ministry, as professionals or volunteers.
Join us for an intimate view into this emergent field of engaged practice. Copies of the book will be available for purchase and signing.