Report from Vice President Susan O'Connell
In alignment with our mission to "make accessible the wisdom and compassion of the Buddha," San Francisco Zen Center has been developing ideas for an innovative Senior Living Community to support Zen Center's elders, as well as people from all walks of life, to continue on a spiritual path as we age.
Many of you know of this project from the surveys we have done. Almost everywhere I go I am asked about how the project is going. I am very pleased to report that the project is very much on track.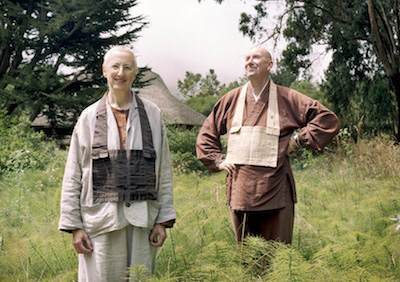 We have also been working with Rev. Jennifer Block to create the curriculum for training the staff and residents of the proposed community in what we are calling "Contemplative Care." We know that this senior community needs to be more than a collection of buildings. It will only meet our vision of a "new way of being together as we age" if we train ourselves to not turn away from others but rather to stay present with an open heart and listening mind. Please read the forthcoming article in the Sangha News of September 19 on the year-long training offering that will begin in January.
Also, for the past five years, we have been partnering with an ethically aligned organization that has deep, successful and long-term experience in the field of operating Senior Living communities: Northern California Presbyterian Homes and Services (NCPHS). In this time, we have accomplished many of the initial steps necessary to provide a foundation for a harmonious partnership and successful project.
Currently we are finalizing an agreement between our two organizations that clarifies how we will be making decisions. Recently Zen Center, through the generosity of a long-time donor, raised $3 million to fulfill its portion of the required initial $16 million of development capital for this phase of the project. With the agreement signed and the development capital in place, we are now ready to look for the best possible location for us to develop this community. Ideally this location will be within one-hour north or south of San Francisco. If you know of any land or facility that would be zoned residential or have the potential to allow for approximately 240 units of senior housing (25-50 relatively level acres), please contact Dave Latina at: zensenior@ncphs.org.
Once the location is found, and site control is secured, here is what can happen next:
A design team will be engaged to create a site plan for the physical layout of the community, and we will obtain preliminary cost estimates.
We will create a Continuing Care Marketing package that describes the basic elements of the location and our innovative approach.
Upon obtaining approval from the State of California, we will be open to receive $1,000 refundable deposits.
If there is a significant response to this opportunity to place a deposit, we will expand our outreach and marketing to the next phase, which may include building a model unit.
We will then be in the position to receive deposits based on 10% of the costs of a unit.
If we are able to secure 70% of the units with these 10% deposits, the funding for the construction of the Community can be secured to allow acquisition of the site and start of construction.
In order to keep the project moving forward while the location is found and vetted, Zen Center is seeking contributions towards a goal of $100,000, which will be used to support the hiring of a project manager and to further develop the Contemplative Care training model. The project manager will be critical in helping to facilitate creative communication between Zen Center, NCPHS and senior housing regulatory agencies. With such support, we can further develop our unique vision for our innovative senior housing community and contemplative care model and seek solutions to obtain necessary approvals in areas like design, communications, programs, food, environment, staffing and training.
If you are interested in giving, please contact: Manager of Leadership Giving. Please go to the Capital Campaign web page to make a donation and find out more about this project.
In "San Francisco Zen Center Celebrates 50 Years" on Forum with Michael Krasny, Aug 27, SFZC's Vice President Susan O'Connell commented on the Senior Living Community project. Also participating in the interview and discussion were Abbot Myogen Steve Stücky and Senior Dharma Teacher Zoketsu Norman Fischer.