There will be a memorial ceremony at Green Gulch Farm on Sunday, September 30, at 3pm, to honor Karin Sobun / Katherine Thanas who died on June 24, 2012.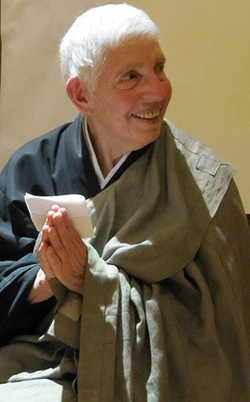 Tenshin Reb Anderson will officiate. The ceremony will include planting a live oak tree on the hillside below the new student housing at Green Gulch Farm.
Everyone is invited. The ceremony will be followed by a reception.
Those attending the ceremony are welcome to participate in the full Sunday program. The speaker that morning will be Zoketsu Norman Fischer. Lunch is by donation.
Katherine's memorial page on the Santa Cruz Zen Center web site gives biographical background and recommendations for donation options in her memory.