The Zen Center prison outreach program connects Buddhist inmates with practitioners in the free world. We also provide free dharma books for prisoners.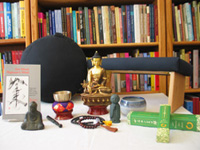 There is a great need for people willing to be pen pals with incarcerated practitioners. All correspondence goes through Zen Center, so the pen pal's address is never given out. Many correspondents prefer to use a pen name as well. At all times the anonymity of the volunteer is guaranteed.
This is a very easy way to make a profound difference in another person's life. To study the dharma with a good spiritual friend can affect our own practice in ways that are moving and gratifying.
If you would like more information about becoming a prison pen pal, please contact SFZC's Volunteer Coordinator, Jeffrey Schneider. He can be reached at either outreach@sfzc.org or 415-354-0379. Thank you.