Upcoming Events:
Open House & Festival of the Arts: Sunday, August 26, 2-6pm
Movie Night: Friday, August 31 – zazen at 6pm; movie at 7:15pm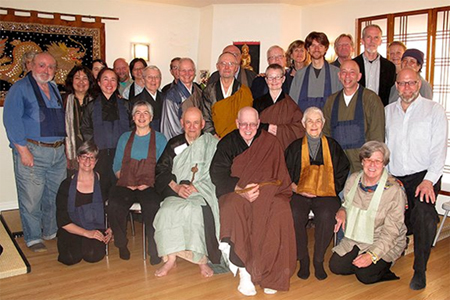 When the dharma is out of the bag, no one can control it, yet the breeze feels fresher. – Dairyu Michael Wenger 49 Fingers
Founded by Dairyu Michael Wenger, Dragons Leap Center for Meditation and Creativity, located at 2100 20th Ave at Quintara in San Francisco, is a small, warm center where creativity and compassion are cultivated. Dragons Leap sits on a hill in the Sunset District with a zendo, an art room—and a view of the Golden Gate Bridge!
Dragons Leap Open House & Festival of the Arts on Sunday, August 26, 2-6pm, is a celebration of Dragons Leap and Dairyu Michael Wenger's birthday. Join us for food, fun and friends – old & new. There will be music, art, poetry readings, brush work demonstrations, an art sale, and a wonderful, exotic garage sale.
Regular activities at Dragons Leap include monthly Friday Movie Night – the next one is August 31. You can come for zazen at 6:00pm and a movie at 7:15pm with lively discussion led by Dairyu. There is a Sunday evening program: zazen at 6:30pm followed by a Dharma talk at 7:05pm, a regular meditation schedule, weekly brush painting classes, a biweekly koan class, and half and full day sittings.
Check us out: www.dragonsleap.com or visit our Facebook page. For more information, email dragonwenger@gmail.com or call Rachel at 510-501-3024.