In advance of her September 7-10 retreat with SFZC Abbot Myogen Steve Stücky, we caught up with Shokuchi Deirdre Carrigan, who has been teaching yoga in the San Francisco Bay Area since 1988.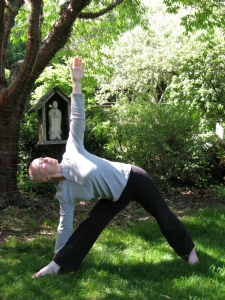 "What I love about Tassajara is how deeply relaxed one can become while there, due to the nurturing atmosphere of the baths, the delicious food, the beauty of the mountains and creek, and the underlying serenity that flows from the quiet  practice of the residents," said Shokuchi, who was ordained a Zen priest by Tenshin Reb Anderson in 2010.
"It is totally wonderful to teach mindfulness of body (yoga) in such an atmosphere.  And the retreat center is inspiring. I bring with me the wonderful teachings of BKS Iyengar, transmitted to me through my teacher, Donald Moyer, and 23 years of practice and teaching students who have inspired me with their devotion to the practice and study of yoga."

This retreat will be moderately physically demanding. "We will practice yoga asana three times each day; before breakfast we will practice Surya Namaskar in a way that is accessible to all levels, as well as breathing awareness and pranayama; mid-morning we will practice standing poses and some inversions (depending on the group) with strong attention to alignment and the subtle movements of energy in the body; in the late afternoon we will practice supine, prone, seated and restorative asanas."
To learn more and to sign up, visit the Tassajara website.