Sometimes, one is enough: There are luxurious, creek-side cabins, yurts and courtyard rooms available for one-day stays at the end of June (6/24 – 7/1); It's also a good time for single travelers and guest practitioners to grab a last minute get-away in shared housing (6/24 – 6/30, ladies only)
Plan ahead for August: If your schedule can accommodate a get-away later in the season, we'd love to have you! August retreats are filling up,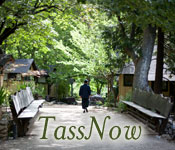 but there's still plenty of room for you — also, a variety of cabin types (from creek-side to courtyard rooms and shared housing) are available for short-stays of one or two nights (8/1 – 8/23)
For questions or to reserve your room, please contact Tassajara Reservations by phone, 888-743-9362, or email.
*A note about TassNow: These room availability updates refer only to last minute / near future availability and don't necessarily mean that other dates aren't available. For all inquiries, contact Tassajara, as indicated above.