"In The Third Turning of the Wheel, Zen master Reb Anderson draws on his forty years of meditation practice and his profound study of Buddhist psychology to illuminate the second-century Samdhinirmocana Sutra, a long-neglected but seminal work that attempts to reconcile Shakyamuni Buddha's early teaching with later Mahayana thought." – from cover description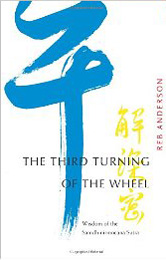 Excerpt from "Why the Wheel Turns Three Times" in the Summer 2012 issue of Buddhadharma: The Practitioner's Quarterly.

Tenshin Reb Anderson, former abbot of SF Zen Center and currently resident Senior Dharma Teacher, lives at Green Gulch Farm and teaches at all three SFZC locations. He is author of Warm Smiles from Cold Mountains: Dharma Talks on Zen Meditation and Being Upright: Zen Meditation and the Bodhisattva Precepts, both also published by Rodmell Press.