Sunday, May 27 – two seatings: 5:30-6:45pm and 7:30-9pm
In celebration of the 75th Anniversary of the Golden Gate Bridge, Greens Restaurant will host a special dinner featuring a seasonal menu prepared by Executive Chef Annie Somerville.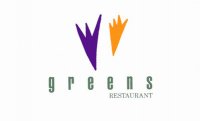 Greens Restaurant is nestled on the western point of Fort Mason with the best seats in town for the forthcoming fireworks display, set to start at 9:30pm on the evening of Sunday, May 27. With Greens Restaurant's sweeping views of the Golden Gate Bridge, Marina and Marin Headlands, there's no better place to be on this historic night in San Francisco; fireworks will be set off from a barge under the bridge and atop the bridge itself.
The dinner will include two seatings: 5:30-6:45pm, will have an a la carte dinner menu prior to the fireworks display, perfect for those who plan to walk down to the Marina after dinner to watch the show (early seating does not include viewing of fireworks, and will be limited to two hours from the time of reservation). The latter seating will begin at 7:30 through 9pm with a 4-course prix fixe menu for $75 (beverages, tax and gratuity not included) and viewing of the fireworks. Reservations are required directly through Greens (415.771.6222, from 10am until 9pm daily), no Open Table reservations will be accepted. Please note, Greens will be closed to the public on Saturday evening, May 26 and Sunday, May 27 for brunch.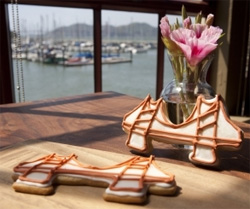 Pat S. Kilduff, Director of Marketing and External Affairs at the Fort Mason Center, enlisted the culinary excellence of Annie Somerville and Greens Pastry Chef Sandi Sumaylo to design and distribute an exclusive Commemorative 75th Anniversary Cookie in honor of the 75th Anniversary of the Golden Gate Bridge. The cookie was released on Mothers' Day, May 13, at brunch and "Greens to Go." Kilduff comments, "Annie Somerville and the staff of Greens Restaurant have been offering the best 'food with a view' of the Golden Gate Bridge for more than 30 years. Who better to offer a special cookie on the occasion of the 75th anniversary of the bridge." The shortbread cookie is rich in butter flavor with a hint of Madagascar vanilla. Its frosting is made with royal icing, and the detailing of the bridge is presented with the iconic international orange color.