An Interview with Rachel W. Cole
This June 4-7, discover what it means to be a Well-Fed Woman, to uncover your deepest hungers and desires, to trust and develop a wholesome relationship to them, and to celebrate feasting on life.

Rachel, tell us a little bit about the work that you do.
The core of my work is helping women to live their lives so that they are deeply well-fed. Right now, for a woman to deny, numb, ignore, suppress, judge, or have shame about her true hungers – be they for food or something else – is normal…and I think that's a crisis. The world we live in needs women to be well-fed so that they can be active, vibrant, connected participants in their lives and in the greater human community.
Primarily, I'm a life coach working one-on-one with women from this philosophy. I noticed last year that my own true hunger was to sit with women and share my teachings. So, at the beginning of this year I launched a 12-city national tour of half-day retreatshops (part retreat, part workshop) to do just that. This month I come to the close of this tour and I know that leading Retreats is part of the work I'm here to do this lifetime. I'm over-the-moon excited that this June, along with my dear friend Ikushin Dana Velden, I'll get to dive deeper with The Well-Fed Woman teachings at our retreat at Tassajara June 4th-7th.
And how did you come to choose Tassajara as the location for the first in-depth Well-Fed Woman retreat?
Well, there's two parts to my answer.
I first visited Tassajara as a volunteer during the 2006 autumn work period and really felt transformed by the experience. The ride there on The Stage was like taking leaving the world I knew and descending into an entirely different one. The rhythm of life at Tassajara –– punctuated by the ringing of bells, fragrant with incense, and in the evening, aglow from the burning oil lamps –– was like no other place I had ever been. So many aspects of my life that had been routine before going to Tassajara, became beautiful rituals after my experience there. From the hot springs and Japanese-style bathhouse to the invocation before each meal, Tassajara helped me to see my life in a whole new way and since then it has always had a special place in my heart.
The second part of my answer is that before becoming a coach I worked in the Bay Area sustainable food community. In the summer of 2008 I was awarded a fellowship to attend a food conference in the Napa Valley. As part of the conference a large group of us were shepherded on a bus to a nearby vineyard and on the ride I struck up a conversation with woman seated in front of me. Low and behold it was Ikushin Dana Velden who I knew as the author of the Weekend Meditation column on The Kitchn website. I had been enamored with Dana's wise writing and was thrilled to meet her in person. We've been good friends ever since and when Dana, who has a long-standing relationship with SFZC and Tassajara, approached me about collaborating on a retreat together, the answer was a wholehearted YES!
What can retreat attendees expect?
We're going to spend our time together understanding and connecting to our true hungers (again, for food, touch, nature, rest, adventure, or any number of other hungers), learning to come into wholesome relationship with them, exploring the nature of what might have gotten in our way of feeding them in the past and how to live our lives as deeply well-fed women going forward. Let me tell you – a well-fed woman is unstoppable!
Also, one of my favorite parts of hosting this retreat at Tassajara is that attendees will get both a rich and thought-provoking retreat experience and a chance to have down time, hike, soak in the hot springs, read a book, take a nap, and do any of the other wonderful things that we all hope come with stepping away from our busy lives.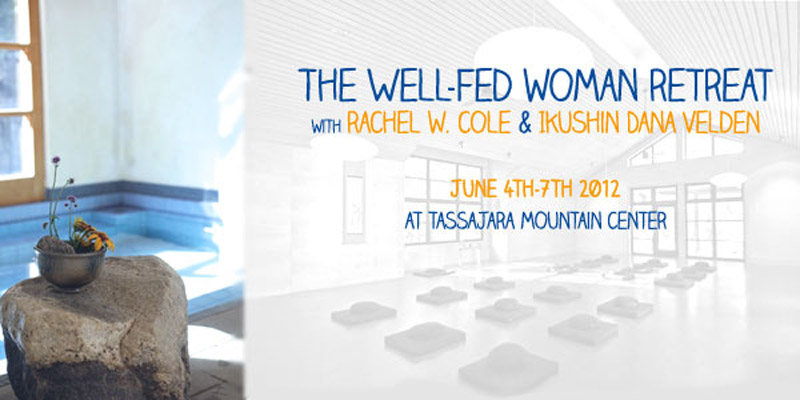 For more information or to sign up for The Well-Fed Woman retreat to be held at Tassajara June 4th-7th, visit the event website. Rachel Cole can be found at www.rachelwcole.com