Zen Monster: a journal of poetry, art, criticism and political commentary launches its third issue.
Friday, April 13, 7:30pm at SF Zen Center, 300 Page Street at Laguna.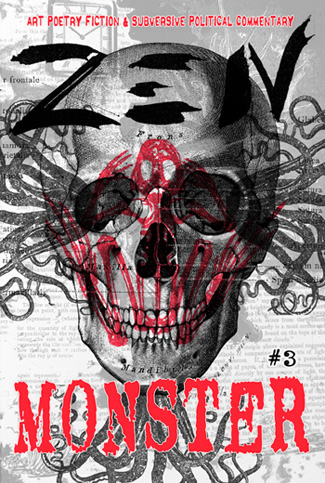 Several legendary Bay Area poets notable for the influence of Buddhism on their poetics and philosophy will read from their work.
The city's fifth Poet Laureate, Diane di Prima, headlines the evening with Beat Generation icon Michael McClure. Di Prima is the author of more than forty books of poetry and prose. McClure performed at the famous Six Gallery reading in a converted garage in the Marina district in 1955, an event seen as the "launch" of the Beat Generation. McClure's work as a poet, playwright, essayist, novelist, and artist establishes him as one of the most important Western Buddhist figures of the long 20th century.
Rounding out the evening are poets Norman Fischer, former abbot of Zen Center, Genine Lentine, author of several chapbooks and essays, Giovanni Singleton, noted Bay Area author and founder of the literary journal nocturnes, David Silva, a nature photographer and poet based in Oakland, and Meredith Stricker, Carmel, who has a new collection of poetry coming out from Caketrain.
Admission is a sliding scale of $5 – $10 at the door.
For additional information contact Brian Unger, editor, Zen Monster, at brianunger2@gmail.com or tel. 917-453-7311.