In anticipation of next month's exciting event with Laurie Anderson and Tenshin Reb Anderson benefiting the restoration of Green Gulch Farm's Hope Cottage, we sat down with Arturo Richardson, Hope Wheelwright's son, who built the cottage in her honor over an inspired summer in the 1950s.

He told us a little bit about what it was like to put it together by hand and what it has meant as a sanctuary.
"I'm one of those people in the world that had the most marvelous mother. When I lost my father at the end of the war, she married George Wheelwright, who was also wonderful to me. My mother loved to read and have a quiet spot and George, as you may or may not know, was a real talker. So I thought I'd like to give her something to show my appreciation for everything she'd done for me and my siblings. I said, 'I'm going to build her something.'
"I had been a carpenter for a while and I met an engineer [while taking a night class]. I told him what I planned to do and he said, 'It won't fly, you can't do it.' He was very academic and he thought it just wouldn't work.
"But I went ahead anyway [with my plan]. I believed it would work. I was a youngster then and another young man and I started moving rocks around by hand. This thing was built with no power, because there's no electricity up there. [It was built] all by hand, with hand tools. [I remember] the animals just loved to be a part of the construction. They used to sit on all the studs, watching me work … we picked up rocks by hand and collected everything at the site.
"The only power I had was a concrete truck, which drove up through the eucalyptus grove for the concrete roof that we shaped on the ground. Then a big crane came up the back road and picked up the roof and put it on, after I built the walls.
"My mother was thrilled; she loved a place to go and be quiet, she loved to read, she was interested in poetry. It was a great success from day one. She used to walk up there several times a week with her big Saint Bernard and it was always called Hope's Cottage. [Someone once called] it a place where people went and had hope for a better future. It's been like that ever since. It's a special spot. A monument to my mother."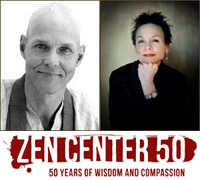 We hope you can join us on March 15 for a wonderful evening in support of this unique place of refuge at Green Gulch Farm.