A Report from the Practice Period by Current Student Heather Iarusso
Three dozen monks are currently participating in the 89th ango of Tassajara Zen Mountain Center. Ango, or Practice Period, is an intense time of meditation, study, and mindful work.
The sangha (community) is currently studying Dogen's Mountains and Waters Sutra with Abiding Abbess Eijun Linda Cutts. The Abbess said in an inspiring Dharma talk in early January that it was an appropriate sutra (sacred text) given Tassajara's rugged, wild environment. She encouraged us all to explore our relationship with nature by taking hikes and maintaining mindfulness as we move through the valley, taking care of daily tasks.
The group of monks has faced below freezing weather nearly each morning of 2012. Their bodies clad in black and their minds insulated by the Dharma (Buddhist teachings), the monks awoke to a low of 19 degrees on a recent January morning. Fortunately, the only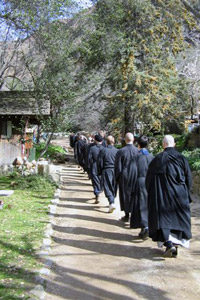 things the frigid temperature burst were delusions arising in the zendo (meditation hall) and pipes in the upper barn.
On the beautiful evening of January 17, Erin "Bright Pearl" Merk entered the zendo as the shuso (head monk, who shares the Abbess' seat in a training position). She took her seat with the encouragement of the Abbess, the sangha, the Buddhas and ancestors, and the stars shining in the night.
As in the sutra, the peaceful abiding at Tassajara flows on like a river and stands like a mountain.