The San Francisco Zen Center coordinates a correspondence program that links Buddhist practitioners in prison with volunteer pen pals in the free world.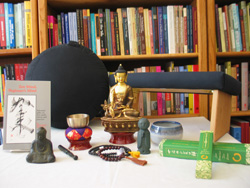 This is a wonderful way to share our practice and to make a difference, often a significant one, in the lives of those who are often forgotten.
When a volunteer comes forward, he or she is given the letters the prisoner has already written to Zen Center, as well as guidelines for the correspondence. All letters go through the Zen Center office and the volunteer's personal information is never given out. Some pen pals prefer to use pen names. We also have a fund which allows us to send dharma books to prisoners at no cost to either them or to the volunteer.
This program reaches out to incarcerated men and women all over the country. The pen pals come from many parts of the country as well.
All that is necessary to volunteer as a pen pal is the willingness to be of service and to share your practice with another. You are not required to be a Zen teacher or even a practitioner of longstanding and experience. Beginner's mind is welcome. The need is great and on-going and there is always a waiting list of prisoners.
If you are interested in learning more about the program, please contact Outreach Coordinator Jeffrey Schneider at outreach@sfzc.org.