The Event "Revive Ethics in Business: Public Meditation in San Francisco" is sponsored by Occupy Together in partnership with San Francisco Zen Center.
Tues, Oct 18, 5:30pm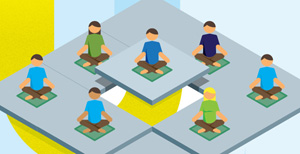 Join members of SF Zen Center at this public meditation event!
"Meditators and mindful practitioners from all traditions and backgrounds are invited to come together in Union Square on October 18 to help ensure the collective energy from the movement remains channeled in a positive direction.
"We are raising awareness around the need to revive morals, ethics, integrity, and compassion in our business practices so that we can re-establish relationships of trust in our economy and in our society."
5:30-5:40pm Opening Remarks
5:40-6:10pm Silent Meditation
6:10-6:15pm Closing Remarks
6:15pm Disperse