Quan Yin Cottage at Ashland (Oregon) Zen Center is available as a traveller's accommodation on a per night, per week, or monthly basis.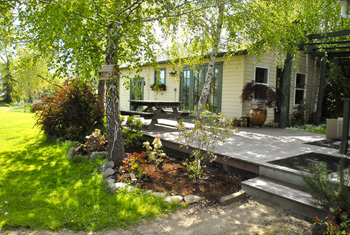 Rates are $100 per night; $600 per week; $2500 per month. The cottage can sleep up to two, in a queen bed and a double fold-out bed. Linens, towels, soap and shampoo are provided. The cottage is equipped with air conditioning and a cast-iron gas stove. The care of the cottage is a joyful practice for the students at Ashland Zen Center, and proceeds from the cottage support the maintenance of the temple.
The cottage can be booked through Ashland Zen Center, through VRBO, or by calling 541-552-1175.