Jakushu Gregory Wood offers the continuing weekly reading of the Avatamsaka Sutra every Tuesday morning in the City Center Art Lounge beginning at 7:45am.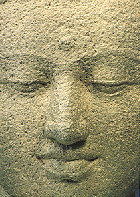 Jakushu Gregory and the group carry on this practice to honor the legacy of Chikudo Jerome Petersen (1928-2010) who offered this teaching-gate at Zen Center for more than 20 years. Please feel welcome to enter this profound practice of reading the sutra aloud with the rest of the group. It is open to all.
D.T. Suzuki referred to the sutra:
As to the Avatamsaka-sutra, it is really the consummation of Buddhist thought, Buddhist sentiment, and Buddhist experience. To my mind, no religious literature in the world can ever approach the grandeur of conception, the depth of feeling, and the gigantic scale of composition, as attained by this sutra. Here not only deeply speculative minds find satisfaction, but humble spirits and heavily oppressed hearts, too, will have their burdens lightened. Abstract truths are so concretely, so symbolically represented here that one will finally come to a realization of the truth that even in a particle of dust the whole universe is see reflected–not this visible universe only, but a vast system of universes, conceivable by the highest minds only.