All Over Coffee
Fri, Sept 9, 7:30 pm
SF Zen Center, 300 Page Street
Zen Center welcomes local artist Paul Madonna, whose series "All Over Coffee" is published weekly in the San Francisco Chronicle, in book form by City Lights, and exhibited in galleries and museums.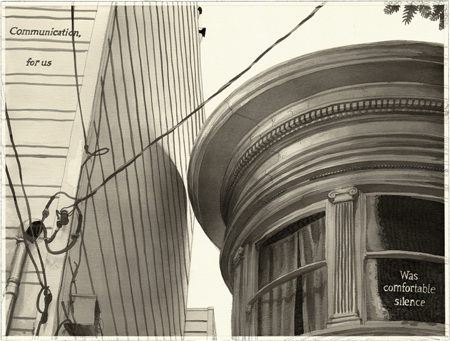 Paul Madonna carefully observes and skillfully renders the details in our environment—what can be seen and heard—and the workings of one's mind—what often is hidden, or revealed to only a few. Paul often combines these elements in intriguing ways, building curious relationships and urging the reader to pause in wonder. In this evening talk, he will discuss his process and theories of creative practice and present a slideshow of his work.
UPDATE: Abbot Myogen Steve Stücky will introduce Paul Madonna and facilitate the discussion. Madonna's books will be available for purchase and signing.
Event Free of Charge | Donations Gratefully Accepted
Contact: 415-354-0385; ccoffice@sfzc.org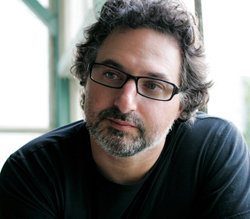 Paul Madonna writes and draws ALL OVER COFFEE in the San Francisco Chronicle and on SFGate.com, and SMALL POTATOES on TheRumpus.net. His second collection of ALL OVER COFFEE, Everything Is Its Own Reward, has recently been published by City Lights. In addition, Paul teaches drawing at the University of San Francisco. He currently lives in San Francisco with his wife.
"The juxtaposition of floating scraps of overheard, disconnected conversations and masterful pen and ink drawings of San Francisco, the city he lovingly documents, reminds us of the serendipity of city life, its physicality and atmosphere, its unanticipated discoveries, its random intersections, its coincidences and ironies. Madonna opens a window into the specificity of place, time and circumstance, providing an articulate perspective and critique of where and how we live." —Cathy Jensen Simon, Principal, SMWM Architects
These strips are a reminder to stop now and then and admire a corner of a room, a window or a rooftop. There are lovely details everywhere, at any time, no matter where you live." —Tony Millionaire, author of Maakies
"The architecture of residential San Francisco is about detail, willful eccentricity, an almost rococo approach to line, and a steadfast devotion to art for its own sake, beauty as its own reward. Paul Madonna's work gives itself fully to all of these notions, and to the city as a whole, and in doing so reminds us why, block by block and view by view, this is one of the most beautiful cities in the world." —Dave Eggers, author of A Heartbreaking Work of Staggering Genius and What Is the What