Zenju reads from her new book: Tell Me Something About Buddhism
Friday, October 7, 7:30pm
SF Zen Center, 300 Page Street, Dining Room [directions]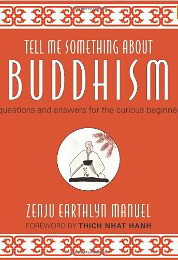 "Zenju Earthlyn brings the Buddha's teachings alive in a fresh and powerful voice born from her own fully lived experience of transformation."
—from the foreword by Thich Nhat Hanh
For anyone curious about the teachings of Buddha and modern Buddhist practice, Tell Me Something about Buddhism offers the perfect introduction. Written and illustrated by Zen priest Zenju Earthlyn Manuel and organized in an easy-to-use Question and Answer format, this brief book answers the many common questions people have about Buddhism, such as:
Who Was Buddha?
What are the Four Noble Truths?
Do you have a holy book like the Bible or Koran?
What do Buddhists believe?
Are there core teachings?
Do you believe in God?
Do some people have good karma and some bad?
Why do the monks, nuns, and priests shave their heads?
How do we practice oneness in a multicultural society?
Manuel, who has been involved in Buddhist practice for over twenty years, after an L.A. upbringing in an African-American Christian church, intertwines throughout the book her personal experiences as one of the first local communities and her travels around the world meeting other Buddhist practitioners enliven her answers to the most fundamental questions about teachings from the earth, such as Buddha's wisdom, it would have been nearly illustrations by the author in charcoal-and-pencil.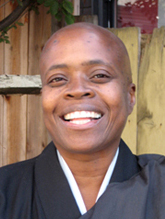 Zenju Earthlyn Manuel is a Soto Zen Priest, Congolese drummer, a visual artist, and contributing author to several books including: Together We Are One, edited by Thich Nhat Hanh, and Dharma, Color, and Culture: New Voices in Western Buddhism. She is the subject of the new film "Zenju's Path," which premiered at the Buddhist Film Festival in Amsterdam in 2010.