As the 16th century tea master Sen Sotan said, "The taste of tea and Zen Are One and the Same." This is especially true at Green Gulch Farm, where the teahouse has been an intimate part of community life and practice for twenty-five years.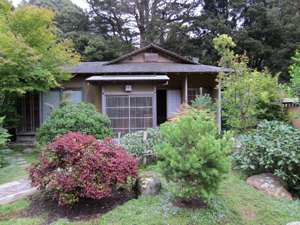 Actually, the Way of Tea has been part of our practice at San Francisco Zen Center since the early 1970's. The story is that Suzuki Roshi gave this wife, Mitsu Suzuki, a book on tea, encouraging her to study with a teacher in San Francisco, and then begin to have students of her own. The living room of the abbot's quarters on Page Street became a tearoom where Zen students encountered the subtleties of Japanese temple etiquette and formed lasting relationships with Suzuki Sensei.
Tea was also encouraged by Zen Center's second abbot, Richard Baker. Yaeko Nakamura Sensei, a Japanese woman in her seventies, had been living with the Baker family in Japan, and accompanied them when they returned to California. At Green Gulch she taught both tea and Noh chanting. Although she was an accomplished tea practitioner, her teacher in Japan had advised her to continue her studies at the Urasenke Foundation in San Francisco, which was newly established by two Americans who had studied for many years in Kyoto. After Nakamura Sensei returned to Japan in 1991, Christy Bartlett Sensei, Director of the Foundation, taught at Green Gulch for several years, and now continues as advisor. Meiya Wender, long-time Green Gulch Farm resident and priest, is the director of the tea program.
The Sowing the Moon Teahouse
In the 1980's, Zen Center received grants for the construction of an authentic teahouse at Green Gulch, using traditional methods of Japanese carpentry. The teahouse, completed in 1985, includes two tearooms, a preparation area, kitchen, and living space. The name Shugetsu-an—Sowing the Moon Hermitage—was given by Hoitsu Suzuki Roshi, the son of the founder of Zen Center. The tearoom is a communal space—a space for meeting others with the realization that each such meeting is unique and transient, a space for the practice of selfless giving and receiving, a place for "enlightened conversation."
The Tea Garden
The roji, tea garden, is a physical space that prepares one psychologically and emotionally for the encounter of the tearoom. The Chinese characters with which roji is written in Japanese may be translated as "dewy path." Ro also means "to disclose" or "to appear," and ji, usually translated as "ground," can also refer to the heart and mind. So "roji" can be understood as "disclosing self-nature." The roji is a place of safety, a place to begin to be quiet and still, to settle on the self.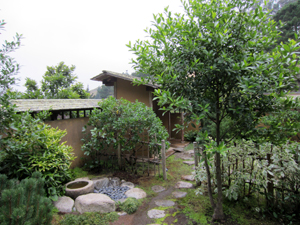 Unlike the teahouse, the garden is a solitary space, a place where although there are other guests, one walks alone on a narrow path, as though on a mountain trail. The front gate is an important indication that one is now entering a different kind of space; it offers the first invitation to pause, to slow down and pay attention. Following stepping stones to the waiting bench there is time to appreciate the changing views afforded by each turn of the path, to drop off preoccupations and concerns, to open all the senses, to just pay attention to what is happening at that moment. Passing through the smaller middle gate, one goes deeper into the wilderness, pausing to rinse one's hands at a stone basin, and then—having completely prepared body and mind—enters the tearoom.
The roji is designed largely in accord with its function as a passageway for guests attending a tea gathering, and only secondarily with aesthetic considerations. Since there are few public tea houses in the United States and many of them—such as at the Asian Art Museum in San Francisco—are in urban areas that don't allow for a garden, very few roji exist in this country. Green Gulch is one of the few settings where it is actually possible to design and create such a space.
The tea garden at Green Gulch Farm was begun in 1996. At that time, the area in front of the teahouse was simply hard-packed earth and weeds; early photographs of Green Gulch show that it had been a parking lot. A wall and waiting arbor were constructed, paths laid out, two stone basins placed, and trees, shrubs, and ground-cover planted.
We are currently raising funds to complete the garden by constructing a true front gate, reconfiguring the paths, installing a stone lantern, replacing the inner bamboo fence, and planting trees which will grow to provide a forest canopy. A generous donor and lover of tea has offered a challenge grant of $23,000 covering half the total project budget of $46,000. To date we've raised about $10,000 toward the challenge grant and hope to begin work this Fall.
If you've been a guest for tea at Green Gulch Farm, you know from experience the simple yet transformative act of receiving a bowl of tea in the serenity of the teahouse. If you have not yet had the chance, we invite you to come to one of our monthly open hearth tea gatherings.
For more information about the tea house and garden or about tea classes and workshops please contact Meiya Wender.