A Soto Zen Buddhism International Symposium—"Advance One Step Further – Soto Zen Opens the Way to the Future"—will be held in Japan on October 4, 2011.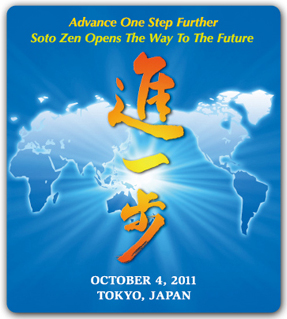 The symposium is hosted by the Soto Zen Buddhism International Center in San Francisco.
The keynote lecture, "The Great Possibilities for Buddhism in Contemporary Society," will be given by Mr. Noriyuki Ueda, a scholar active in many spheres who was a visiting fellow at Stanford University in 2005. A presentation will be made by the directors of the four Sotoshu regional offices (Hawaii, North America, South America, and Europe) on the ways Soto Zen is growing overseas. There will be a panel discussion on the future of Soto Zen and a social gathering.
Invited to attend are Sotoshu priests, practitioners, and temple members from around the world.
The International Center is also organizing a 4-day, 3-night tour including the symposium, a visit to Chokokuji which is the Tokyo branch temple of Daihonzan Eiheiji, and to Daihonzan Sojiji. This year, 2011, marks the 100th Anniversary of the relocation of Daihonzan Sojiji.
Registration is required. Please see the PDF registration form for more information and to register for the symposium. The deadline has been extended to August 20.*
For more information, please contact Yuji Ito at Soto Zen Buddhism International Center in San Francisco either by email or by phone at 415-567-7686.
*NOTE: Please disregard the registration deadline indicated in the original brochure [PDF file].