Just as Siddhartha left the innocence and protection of his childhood palace to seek his own path and to discover what he had to bring into the world, so must all young people leave the total dependence of childhood behind and embark on the important and complex journey towards adulthood.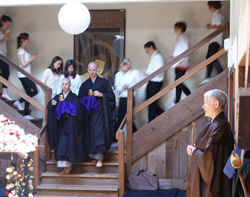 September 11, 2011 – May 13, 2012
The Zen Center Coming of Age Program aims to offer guidance and support that facilitates youth in their journey towards forging new connections to themselves, their community, and the environment. It is also a formal celebration of that journey. We hope you will join us! Both new and returning students are welcome.
Applications for the 2011-2012 session are now available through Fu Schroeder.
To Register: Please contract Fu Schroeder at 415.389.0308 or see her following the Sunday lecture at Green Gulch Farm.
FIRST MEETING
Sunday, September 11, 2011
Green Gulch Farm
Wheelwright Center
9:30 am – Noon
Parents are requested to attend the first meeting for an opening ritual, discussion, and information session with the program directors.
Cost
Non-members: $800, Members: $720, Low-income: $640