by Nancy Petrin
From databases to conversations, changes are underway to expand our services for members.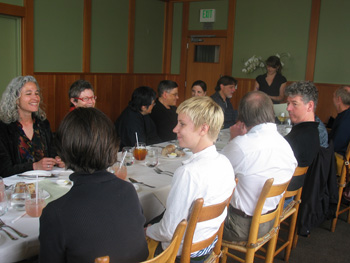 This issue of sangha-e! has a new look and a new name, and soon Membership will have a new "look," too. In July, we begin our long-awaited database conversion, improving the systems we use to keep up to date and in touch with you. Our member registration and renewal pages will move to a new platform that should make signing up, renewing, and managing your own membership information simple and direct—not everyone's experience of our current system (!).
We'll also be launching our own Membership Blog, keeping members in touch with upcoming events and special member opportunities. It could also serve as a channel for conversations around membership, something that I am personally looking forward to. So please keep an eye out for it!
Also new at SFZC, we're moving to on-line event registration, beginning this summer with the Fall Schedule of Events at City Center. Members' rates will apply to on-line registration, via discount codes—more on that as we finalize the details.
Meanwhile, we're firming up a date for our next Membership Meeting. It may be moving back to its traditional fall date, so this year our "annual" Members Meeting might be a bi-annual event. Considering the many requests I receive to get the Members together more, this could be a wonderful thing.
And even with all of us working hard to keep the zendo doors open in the City and at Green Gulch Farm, it is summer time and Tassajara awaits. My daughter Olivia and I were just there for a few days and had a good dose of Tassajara: hiking, swimming in the creek, dipping in the pool, and drinking in the slower pace of summer. Get away for a few days, if you can, and remember, members receive a 15% discount on Tassajara retreats. The new retreat hall is now in full swing and it is a truly lovely space to experience the benefits of practicing together.