Begins Sat., July 2
Gardening at the urban temple is in full swing.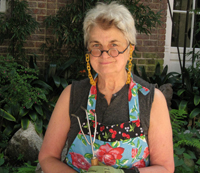 With pockets of green at 300 Page Street, we are working on shifting our gardens from ornamental to sustainable sources of altar flowers, herbs, and fruit. City Center has already seen the advent of Bee and Flower chidens, students whose job is to care for those areas of the city center gardens. Rumor has it that a compost worm chiden may also soon appear. As help is needed to support this transformation, Marcia Lieberman, the head gardener and environmental steward, will spend Saturday afternoons with volunteers working outside doing gardening tasks with environmental issues guiding the group.
All are invited to join: The focus of the garden work parties will be on urban living and what you can do to green what limited space you may have. Marcia, inspired by the French tradition of a potagé, or kitchen side garden, has already overseen the revitalization of the City Center side garden by adding fruit trees, herbs, blueberries, and beautiful nasturtium which have made appearances in our salads. Her vision for City Center is grand; she hopes to someday see a fragrant orangerie in the courtyard portico and a vegetable greenhouse on the rooftop (near our honeybees which already call the roof their home), which will also double as a place for practice discussion and informal teas.
Please join us on Saturdays, July 2, August 13, and September 3, from 1:30 to 4pm. Entry through the 308 Page Street gate will lead to the meeting place in the side courtyard. Wear suitable clothing and bring a weeding tool if you can. Tea, cookies, and conversation will conclude our afternoon together.
Come be a part of the transformation.