Written by Meg Levie
The basis of farming is actually awareness…. Understanding interconnectedness, understanding impermanence, birth and death: it's all right there on the farm.   —Sara Tashker, Green Gulch Head of Farm
The creators of the Green Gulch Farm Apprentice Program had a dream: Let's design a program that offers both Dharma and ecology, completely intertwined in every way. Since 1994 Green Gulch has been offering a farm apprentice program that is truly unique. Apprentices come for six months of the growing season and learn the basics of organic farming techniques through classes and fieldtrips. They also join the community for two periods of meditation each morning, participate in Dharma events and one-day sittings, and earn credit for two practice periods, which provide time for extended retreat and study. They interact with the wider world as well, helping lead environmental education programs for children and selling produce at the San Francisco Farmers' Market.
How does their time of learning at Green Gulch Farm translate to the wider world? What are they doing now? In this article, Meg Levie shares excerpts from recent interviews with six farm apprentices. These interviews were compiled in March 2008.
Damien Raffa, 1996
Education/Volunteer Program Manager, The Presidio Trust
"Getting up early in the morning, going to the zendo, smelling the incense, sitting and chanting, and then going down to the farm and sitting on the back of the tractor plugging baby chard and kale seedlings into the soil…leaving the fields for lunch and eating the food that we were growing, and later at night listening to a Dharma talk: this back and forth was very rich, and more than ten years later these are vivid and nourishing memories."
Right after completing the farm apprenticeship he accepted a position in environmental education at the Presidio. "I knew I wanted to work in an urban context to connect city people with their local nature. The work that I've done at the Presidio has been just about that: connecting urban people with urban ecology through community-based natural resources stewardship and public education."
Jo Ferneau, 2002
Founding member, Full Bloom Farm and Bakery, Applegate, OR
"The farm apprenticeship program was fantastic. It was exactly what I needed at the time, and it's why I'm where I am now. It awakened my consciousness about food: learning where it comes from and watching it grow. My consciousness around local, seasonal, and organic produce grew, and the world of farmers' markets and organics found a huge place in my heart. For the first time I was able to observe the seasons and be with the land."
Jo and his family are members of Full Bloom Farm and Bakery, an intentional community and permaculture farm founded on land bought in 2005 by former Green Gulch farm apprentice Ryan Ginn. They share a common vision of building a local economy by starting a farm and bakery and supporting each other in their spiritual and ecological intentions.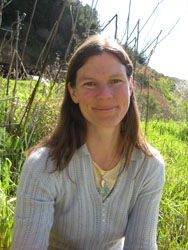 Nancy Petrin, 1996
Doula, Berkeley
"The thing that brought me to Green Gulch was the farm….I think that the farm and garden apprenticeship is important because it attracts this whole group of people that otherwise wouldn't find practice….However long people stay, that experience goes with them throughout their life."
Nancy came for the farm apprentice program but ended up staying at Zen Center for nine years. She now works as a doula, helping women through the process of giving birth. "When I'm with women I feel it's all about my practice and being present with them. It's about breath work, it's about the earth, it's about getting in touch with that part of ourselves that can trust the natural process, that can trust the whole universe, that can trust the wisdom of our bodies. I feel that so much of that really is about working with the land and the soil, the cycles and the seasons."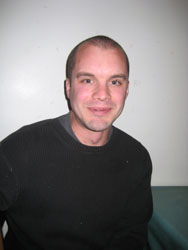 Jeremy Rourke, 2004
Public school teacher, Mentor of At-Risk Youth, San Francisco
"I found out a lot about myself at Zen Center….On the farm time slows down….You see the lifecycle of plants; it's going at its own speed. Giving up my time expectations of life helps with patience in working with the kids."
Jeremy works with elementary school children teaching computer science and chess and mentors high school students who are at risk.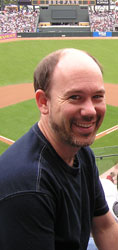 Matt Jeschke, 1995
Community Relations Manager, Rio Tinto mining and exploration company, Salt Lake City, Utah
Matt came to Green Gulch Farm right out of college to participate in the farm apprenticeship program and then stayed at Zen Center for seven years. Of the apprenticeship program he says, "To sit in zazen and then go out into the fields: there was something wonderfully complementary about those two practices."
After leaving Zen Center in 2001 he worked for Business for Social Responsibility in San Francisco for six years and also served as chair of the SFZC Board of Directors. He now lives with his family in Salt Lake City, Utah, working as a community relations manager for Rio Tinto mining and exploration company. "I'm making sure that we're talking to people about what we're doing and addressing their concerns; we're trying to work in partnerships in the community where we operate. The person who encouraged me to work here said, 'Come at this from the inside and you'll have a real chance to influence us.' It's an industry with a lot of issues, and it's good to be working in a positive way."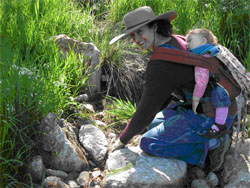 Kamala Bennett, 1996
Co-founder and co-owner of Sentient Landscape, Inc., Sonoma
"The farm apprenticeship program was a natural outgrowth of my interest in high-quality nutritious foods, but a still deeper calling was the dance:  how can we cultivate human environments that have a mutually beneficial relationship with the natural world?….My heart and mind had opened tremendously during the previous year in Zen practice, and I was deeply engaged in the concept and experience of interconnectedness.  The farm apprenticeship was an ideal ground for sensing and exploring relationships, cause and effect.  There were and are so many moments of learning in the garden that only require stillness to reveal incredible connections."
Kamala and her husband Geoff Hall together founded Sentient Landscape, a design and build firm specializing in ecologically sound design and sustainable development. They are recognized leaders in the fields of permaculture (the practice of creating mutually beneficial relationships between human habitats and natural ecosystems) and ecological landscape design.