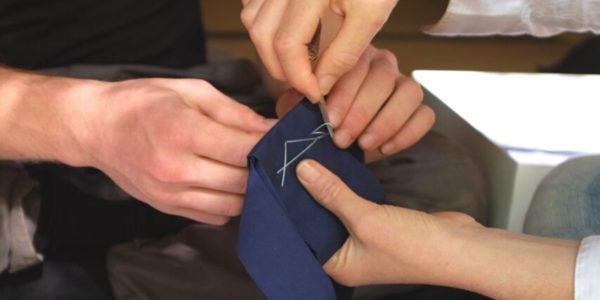 By Tova Green
The Zen Buddhist Sewing Teachers and Everyday Zen launched a six-month non-residential online practice period in June 2021, called Sewing with Heart. Seventy sewing teachers and apprentices from the U.S., Canada, Britain, Ireland, Germany, Italy, and Russia are participating in this unique offering.
The inspiration for the practice period came from Shosan Victoria Austin, who wanted to honor the fifth anniversary of Zenkei Blanche Hartman's death on May 13, 2016. Because of the uncertainties of the Covid-19 pandemic, Shosan realized that she couldn't plan a large in-person gathering to celebrate Blanche's life and teaching, and decided to put together an online practice period to honor Blanche's many years as the SFZC sewing teacher.
Shosan describes sewing Buddha's robe as a work practice, a form of service to the sangha. Suzuki Roshi said in a talk he gave in June 1971, "We do not make our robe just for ourselves. We are making something greater, which will include everything, which could be everyone's."
Sewing Buddha's Robe, or Nyoho-e (translated literally as the clothing of Dharma suchness) is a tradition that goes back to the time of the Buddha. In the early days of San Francisco Zen Center, Suzuki Roshi invited Yoshida Roshi to come from Japan to teach sewing. Later, Richard Baker invited Joshin-san, who had trained at Antaiji, to be the Zen Center sewing teacher. Yoshida Roshi and Joshin-san represent two traditions of sewing. Yoshida Roshi passed her method on to Tomoe Katagiri in Minnesota, and Joshin-san trained Blanche Hartman.
When the Zen Buddhist Sewing Teachers Association was founded in 2012, one of its goals was to fulfill Blanche's request that we keep sewing practice alive and connect sewing teachers in both traditions.
The six-month Sewing with Heart practice period is divided into three sections, each two months long: a historical focus, acknowledging the heart of the Nyoho-e tradition, including stories about Blanche and Tomoe-san; learning about how this tradition is transmitted through time and space; and exploring the legacy of Nyoho-e, how to transmit the heart of Nyoho-e to future generations. Read more