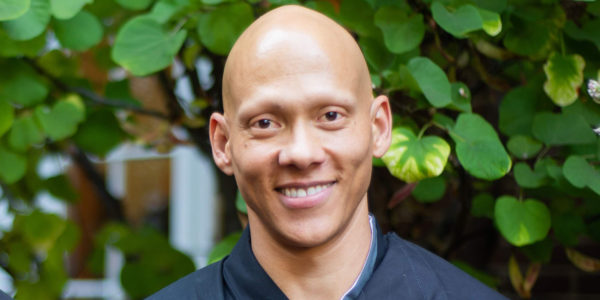 Interview by Tova Green
Eli Brown-Stevenson, a San Francisco Zen Center priest ordained by Central Abbot Ed Sattizahn, became SFZC's Corporate Secretary in January 2021. In this interview he spoke of what prepared him to take on this leadership role and what he is learning as Secretary.
Prior to coming to Tassajara with his wife Catherine (Cat) Stevenson in the summer of 2012, the couple had been living in Phoenix where Eli had worked in management positions in different sectors including for-profit education and new home construction. His years of interfacing with the cosmopolitan world, as well as his education in business, helped prepare Eli for his roles at SFZC.
Eli's experience as Director of Work Practice exposed him to the complexities of SFZC's organizational structure and policies. Because he participated in high level Zen Center committees, Eli has gotten to know those in leadership roles at all three temples.
The SFZC Board invited Eli to become a member in 2016. As a Board member he gained an understanding of the role of the Board and the function of Board committees. This makes it easier for him to take notes at Board meetings now. "I've been well trained for the Secretary position," he commented. "I have been behind the scenes enough that I don't feel so new as an officer."
Eli loves to know how things work, and how things came to be the way they are at SFZC. The Secretary is the keeper of SFZC's archives and this gives Eli "a full pass to look around at things, such as how certain committees were formed."
The role of Secretary includes a number of projects. Eli finds it satisfying to see a project through from start to finish. He worked with the other SFZC officers and two residents to draft SFZC's recent "Zensus." This survey had two purposes: to learn how residents feel about their life and practice at SFZC and to gather basic demographic information. Eli worked on a follow-up report which was distributed and discussed at an all-temple meeting and with the SFZC Board. The plan is to repeat the Zensus annually which will give leadership a better pulse on residential life. This can be useful for visioning processes. Read more