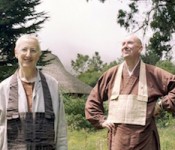 Report from Vice President Susan O'Connell
In alignment with our mission to "make accessible the wisdom and compassion of the Buddha," San Francisco Zen Center has been developing ideas for an innovative Senior Living Community to support Zen Center's elders, as well as people from all walks of life, to continue on a spiritual path as we age.
Many of you know of this project from the surveys we have done. Almost everywhere I go I am asked about how the project is going. I am very pleased to report that the project is very much on track.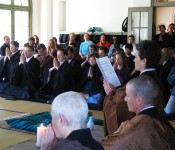 From our archives: A jukai/lay ordination ceremony at City Center in April 2004. Preceptors for the ceremony were Zenkei Blanche Hartman, Gaelyn Godwin, and Teah Strozer. Read more